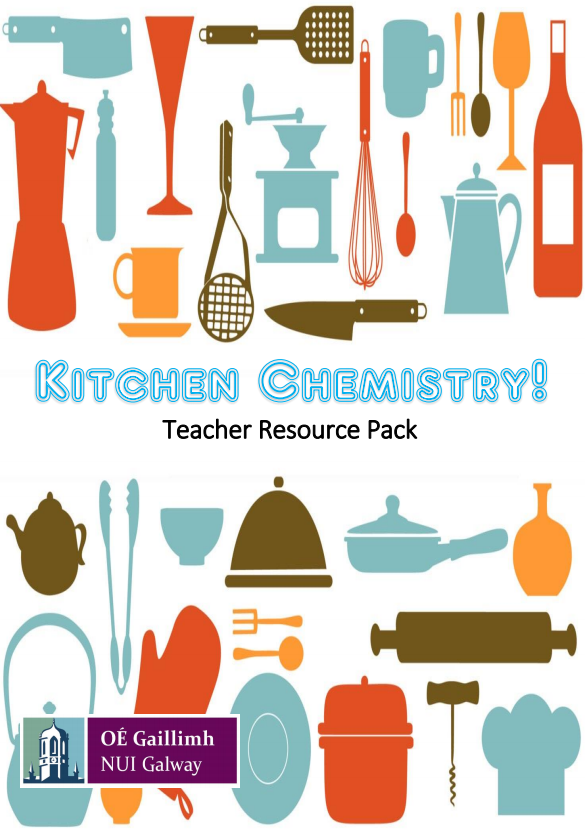 The development of the Kitchen Chemistry videos is a joint venture between the School of Education and the School of Chemistry at the National University of Ireland, Galway (NUI Galway). The venture was developed with EXPLORE funding. EXPLORE is where NUI Galway students and staff partner up and deliver innovative ideas. The motivation behind the Kitchen Chemistry videos is to promote science among primary school students. The six video series and associated teacher resource pack expands on current scientific outreach efforts by the School of Chemistry and also the recent Science Hook series (freely available on iBook or web platform, www.sciencehooks.scoilnet.ie) developed in the School of Education.
The Kitchen Chemistry resources offer primary teachers a collection of videos that capture novel and engaging aspects of chemistry-based science topics. The collection is also available trí Ghaeilge. This teacher pack provides details regarding the six videos. The pack provides: a methodology, a simple explanation of the science, extension activities, and worksheets for early, middle and upper years. Scoilnet.ie has facilitated and supported the production of a Kitchen Chemistry website.
This teacher pack was co-authored by Dr Veronica McCauley, Martin McHugh, Laura Finnegan (School of Education), Nicole Walshe, Christine Conway (School of Chemistry) and consultant teacher Sara McGeachy (Clonoulty Central National School, Co. Tipperary).
Download the teacher resource pack for Kitchen Chemistry.